After the Second World War several youth movements were active that were forerunners of the later Scouting Netherlands. One of these youth movements was the association of the Catholic Scouts.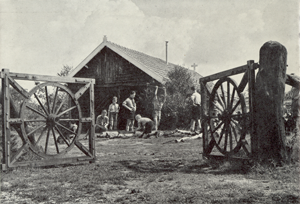 In 1949 the Katholieke Verkenners got their own grounds, the outdoor center Gilwell St. Walrick in Overasselt. Here the troops from the south could camp close by and also the leader training of the Catholic Scouts was given, which was always held in Ommen.
The first manager is Mat Zuur. He lived in a tent and a log cabin at the Buitencentrum. Over the years, the wooden barracks have been replaced by stone buildings and the Buitencentrum has been given its current form.
At that time, the Katholieke Verkenners also acquired their own church in Persingen, the St. Joris chapel in the Ooypolder near Nijmegen. Persingen was the spiritual center of the Catholic Scouts. The statue of Saint George, the patron saint of the scouts, was brought to Persingen in procession in 1952. Saint George stood in the church from 1952 to 1975.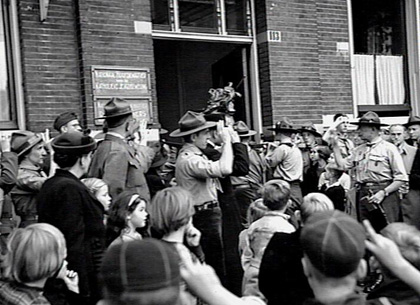 After the merger, the statue of Saint George moved to St. Walrick in 1975. Later the image for the National Office of Scouting Netherlands was put down. In 2008 the statue returned to the church of Persingen. In the area of ​​Overasselt trips were set out. The most important trip was the St. Joristocht. This tour lasted 24 hours twice and led past the church in Persingen and ended at the St. Walrick chapel in Overasselt. Only elderly youth members were allowed to walk in St. George's St. George's.
On September 6, 1973, the Catholic Scouts with The Dutch Scouts, the Dutch Scouts Guild and the (also Roman Catholic) Dutch Guides merged into Scouting Netherlands. Then the central function of the site and the Buitencentrum was canceled.
After Matt Zuur St. Walrick has had several managers. First Jan Wycherinck who left behind numerous wood carvings and later Harry Leenders. Then the camping site and the outdoor center were managed by Jantje Beton.
In the year 2001, Scouting Nederland took back management. Organisationally, a split has been made between the Scouting camping site on the one hand and the outdoor center on the other. The new manager, Henry Soyer, has started a new camp team at the campsite. The Buitencentrum has been completely independent since that time and was sold in 2006.
The successor to Henry Soyer, Jan van Leeuwen, is the initiator of the latest developments within the Scouting campground. The new construction of De Hut and the redevelopment of the grounds are good examples of this. In July 2013, Jan van Leeuwen was succeeded by Peter Roos.
Led by Peter Roos, a new campfire pit has been created where there is room for hundreds of scouts.
Roel van Leeuwen has been the new manager since April 2018.